Black Lantern Power Ring (Promoring aus Kunststoff)
Dieser Black Lantern Power-Promoring ist aus Kunststoff und es gibt lediglich eine Größe, die den meisten Ringträgern (Mittelfinger) passt.

The Blackest Night falls from the skies,
The darkness grows as all light dies.
We crave your hearts and your demise,
By my black hand, the dead shall rise!
(Black Lantern Corps Oath (Quelle: greenlantern.wikia.com/wiki/Lantern_Oaths))

(Ich danke preussmedia (www.preussmedia.com) für die Fotografie des Rings.)

Achtung Erstickungsgefahr:
Der Ring ist kein Spielzeug und
nicht für Kinder unter 3 Jahren geeignet.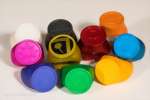 | | |
| --- | --- |
| Lieferzeit: | 3-5 Tage (s.a. Kundeninfo/Lieferzeiten) |