Hersteller:
Dynamite Entertainment
Bettie Page Statue By Terry Dodson Black And White Edition
Ihre Karriere dauerte nur etwa ein Jahrzehnt, aber ihr fotogener Charme und ihr klassisches Image haben sie zu einer Ikone der Popkultur für Generationen von Fans gemacht. Ob jung oder alt, jeder liebt Bettie!

Dies ist nicht die erste Statue der beliebten Pin-up-Ikone, aber es ist eine neue und einzigartige Version von Bettie, die Sammler noch nicht gesehen hatten! Bettie Page, die "Königin der Pin-ups", war schon immer dafür bekannt, die Blicke auf sich zu ziehen, und Dynamite Entertainments verspielte Darstellung von Steve Kiwus fängt all den Charme ein, der sie zu einer Legende machte.

Inspiriert von den klassischen Zeichnungen von Dave Stevens (dem Schöpfer von The Rocketeer), hat sich der erfahrene Comiczeichner Terry Dodson dazu entschlossen, Stevens mit seiner eigenen Wiedergabe der definitiven Bettie-Page-Pose zu huldigen.

Die limitierte Auflage der Black And White Edition, die bei Dynamite bereits ausverkauft ist, beträgt nur 300 Exemplare und das angebotene Exemplar trägt die Nummer 258.

Warnhinweis:
ACHTUNG! ERSTICKUNGSGEFAHR
wegen verschluckbarer Kleinteile.
Nicht für Kinder unter 3 Jahren geeignet.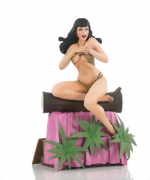 | | |
| --- | --- |
| Lieferzeit: | 3-5 Tage (s.a. Kundeninfo/Lieferzeiten) |