Hersteller:
Dark Horse Comics
Star Wars: Return Of The Jedi - Digest Edition
Ein Foto-Comic
96 Seiten (Digest-Format)
Der immerwährende Kampf zwischen der dunklen und hellen Seite der Macht findet auf dem Waldmond Endor seinen Höhepunkt: lernen Sie das Star Wars-Universum kennen, wie es in den ersten legendären Filmen präsentiert wurde.
Die handliche Digestausgabe erzählt in Comicform - in hunderten von Filmfotos - die Geschichte des jungen Luke Skywalkers (Mark Hamill). Mit dabei sind natürlich all die bekannten Charaktere: Han Solo (Harrison Ford), Prinzessin Leia (Carrie Fisher), Obi-Wan Kenobi (Alec Guinness), Lando Calrissian (Billy Dee Williams), Yoda, der Jedi-Meister, R2-D2, C-3PO und Darth Vader.
Diese Ausgabe ist nicht nur ein Muss für Star Wars-Fans sondern auch für Filmfreunde.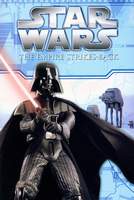 | | |
| --- | --- |
| Lieferzeit: | 3-5 Tage (s.a. Kundeninfo/Lieferzeiten) |