Hersteller:
IDW Publishing
Star Trek/Legion Of Super-Heroes
von Chris Roberson & Jeffrey Moy
Texter: Chris Roberson
Zeichner: Jeffrey Moy
Inker: Philip Moy
Die Ausgabe beinhaltet STAR TREK/LEGION OF SUPER-HEROES # 1-6.
156 Seiten
Originalpreis: 19,99
Die legendäre Crew...
Das legendäre Team...
Zum ersten Mal zusammen!
IDW Publishing und DC Comics präsentieren die größte Geschichte des 23. Jahrhunderts! Oder ist es das 31. Jahrhundert?
Comicautor Chris Roberson und Zeichner Jeffrey Moy schufen die bizarrste Partnerschaft aller Jahrhunderte! Die Besatzung des Raumschiffs Enterprise und die Legion of Super-Heroes kommen zusammen, als sie sich mit einer veränderten Geschichte und einem veränderten Zeitstrahl herumschlagen müssen und von denen keiner die Ursache kennt. Um Antworten zu erhalten und alles wieder ins Lot zu bringen, müssen sie in die Vergangenheit und Zukunft reisen - und sie müssen zusammenarbeiten.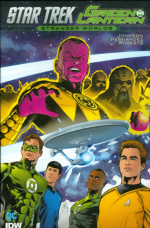 | | |
| --- | --- |
| Lieferzeit: | 3-5 Tage (s.a. Kundeninfo/Lieferzeiten) |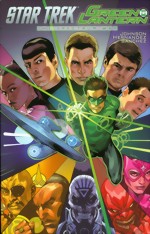 | | |
| --- | --- |
| Lieferzeit: | 3-5 Tage (s.a. Kundeninfo/Lieferzeiten) |