Legion Of Super-Heroes Vol. 02: Death Of A Dream
von Mark Waid & Barry Kitson
Texter: Mark Waid & Stuart Moore (Interlude)
Zeichner: Barry Kitson; zusätzliche Zeichnungen: Kevin Sharpe, Georges Jeanty & Kevin Lashley
Inker: Art Thibert, Mick Gray, Drew Geraci, Prentis Rollins & Paul Neary
Die Ausgabe beinhaltet LEGION OF SUPER-HEROES # 7-13 und eine Titelbildgalerie.
200 Seiten
Originalpreis: $ 14,99

Eine Legion ist getrennt!

In einer Zeit des Friedens und der Ruhe vereinigten sich Jugendliche mit Superkräften aus allen Ecken des Universums zur Legion Of Super-Heroes, um die starre Struktur, die den Kosmos zusammenhält, durcheinanderzuwürfeln und versteckten Bedrohungen gegenüberzutreten, die die alte Generation nicht sah.

Ein verstecktes Superhirn plant den Zerfall der United Planets. Damit würde der Jahrhunderte alte Frieden enden. Nur die Legion hat das kombinierte Wissen und die Kraft, die nötig sind, den Schurken zu stoppen. Doch ein Streit darüber, wer die Legion führen soll, hat sie in zwei Parteien gespalten. Werden die Mitglieder ihren persönlichen Zwist rechtzeitig hintenanstellen, um das intergalaktische Böse zu stoppen?
Band 1: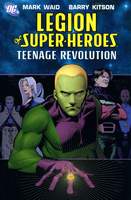 | | |
| --- | --- |
| Lieferzeit: | 3-5 Tage (s.a. Kundeninfo/Lieferzeiten) |